Roof Cleaning Brisbane
Colorbond, Terracotta (clay tiles) & Concrete Tile Roof
Transform your home with a roof clean
Go Zeaus has over 25 years' experience in roof cleaning Brisbane, roof restorations and roof repairs.
A  roof cleaning Brisbane service costs far less than having your roof painted. It removes dirt and grime from your roof and improves the overall look and feel of of your house, potentially adding value to your property.
A high pressure roof clean also helps detect maintenance issues that could cause damage to your home. Everyday weather conditions and pollution can erode the surface structure of your roof causing oxidisation and rust.
Moulds, moss and lichen can also grow rapidly when your roof is dirty which can also break down the surface not to mention look unsightly.
Reduce potential health hazards by having a roof clean from one of our roof cleaning Brisbane experts to remove that build-up of untreated moss, mould and lichens.
Avoid potential water damage and fire hazard to your home by removing unwanted leaves and sticks from your roof and guttering before storm season arrives.
Debris can block your down pipes and the flow of water coming off your roof and cause damage particularly in the wet season where there is a hgih volume of water. Ideally a gutter clean is recommended every 6 months or before each storm and fire season. Could be more often depending on your surroundings.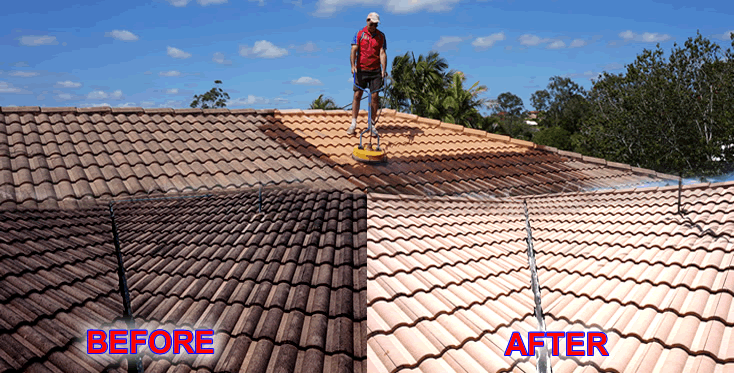 A roof clean is a cost effective way of extending the life span and maintaining the appearance of your roof.
Our clients often comment that they had forgotten what the actual colour of their roof was prior to receiving a high pressure roof cleaning Brisbane service and are genuinely amazed that their roof looks like brand new again. 
Roof Cleaning Brisbane – Proceedures we take for peace of mind
Before we commence the roof cleaning Brisbane process Go Zeaus will inspect your roof for possible leaks or for any broken or cracked tiles. If any repairs are required it is best to have it addressed at this stage as this will prevent any water damage occurring.
If you have water tanks we will disconnect them so no dirt or debris runs into your tanks. Most of the time your downpipes run off onto the road so we need to pump the waste water back to prevent it from entering the catchments.
In today's work environment it is very important to protect workers and clients from injury and create a safe work area. Our safety inspection checklist is completed, signed and dated by staff to ensure and confirm that all safety proceedures and equipment are in place.
Cleaning your roof is a very difficult procedure that takes experience and care. Using the right safety equipment and tools to clean a roof are essential! Go Zeaus has over 25 years experience in the roof cleaning Brisbane and roofing industry and have all of the equipment and tools needed for the job.
Clean gutters
Removing of debris to prevent blocking of down pipes is also part of our roof cleaning service. Having your gutters clean and free of debris will reduce the risk of water damage or blockages. Cluttered gutters can also present a fire hazard in dry conditions.
Lichen and Mould build up.
Terracotta tiles provide the perfect environment for the growth of lichen, which favours a cooler surface. Go Zeaus has the perfect cleaning solution. Firstly, we spray your roof with our special cleaning solution to kill the lichen.
Once sprayed the lichen releases its grip on the roof and can be easily removed with a high pressure clean, leaving your roof spotless.
Roof Cleaning Equipment.
We use Whirlaway rotary cleaners for most of the roof cleaning process as they are fast and efficient, so save time and use less water per square metre.
Turbo wands clean terracotta roof tiles as they are perfect for rinsing off and cleaning walls and tiles, particularly in awkward spots that the Whirlaway cannot reach.
Rinse Down
After the roof and gutters have been pressure cleaned, GoZeaus completes the job by rinsing any over spray from the roof leaving your property looking fresh and rejuvenated.  
We love what we do! If you have any questions or would like a quote please call us on 1300 469 328 or contact us here.